David Moorcroft and Rob Borthwick
Sports consultancy pointfourone was founded by former 5000m world record holder David Moorcroft and his business partner Rob Borthwick.
David Moorcroft OBE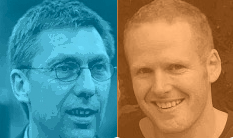 David Moorcroft (left) and Rob Borthwick.
David Moorcroft is best known for his world record-breaking and medal-winning exploits on the track in the 1970s and 80s, then for his athletics punditry on BBC TV.
He began teaching in 1976 in the UK and New Zealand. In 20 years as an international athlete he won two Commonwealth Golds, competed in three Olympic Games, and set British and European records.
World record holder
However, it is for his remarkable 1982 World Record of 13:00.41 over 5000m that David Moorcroft is best remembered within athletics - a record that gave its name to pointfourone.
David covered athletics events for BBC television and radio between 1983 and 1997. At the same time, he was developing the Coventry Sports Foundation for which he was Chief Executive from 1981 to 1995 (and remains a Trustee).
The Foundation now owns and operates three major sports facilities and numerous related projects serving targeted communities in Coventry. It has attracted over £20m of capital and £8m of revenue funding.
David Moorcroft at UK Athletics
David Moorcroft was appointed Chief Executive of UK Athletics in 1997. Under David, UK Athletics was taken from bankruptcy on his arrival to financial security. After his ten years at UKA, it was the most commercially successful athletics governing body in the world with a turnover approaching £20 million.
Under David Moorcroft's leadership, UKA grew the Norwich Union sponsorship to £50m, the biggest single sponsorship in British sport outside of football, and attracted the BBC back in to covering domestic athletics after a break of thirteen years.
David increased the investment in grass roots athletics to well over £3m a year with an additional £80m of public funding in outdoor and indoor facilities the biggest public investment of its kind in any sport in the UK.
He oversaw the creation of programmes and a performance environment for talented athletes that has produced medals at recent Olympic and Paralympic Games, and World and European Championships.
David Moorcroft was awarded an MBE in 1983 and an OBE in 1998 for his services to British sport.
David Moorcroft at pointfourone
David's projects as a consultant include leading the work of the West Midlands Nations and Regions Group for the London 2012 Olympic and Paralympic Games.
He has provided strategic advice on the sporting and commercial direction of both Loughborough and Warwick Universities.
David has been heavily involved from its inception with the London 2012 legacy charity 'Join In', becoming its Director of Sport. Join In is now the nation's charity for local sports volunteering.
Rob Borthwick
Rob Borthwick ensures that pointfourone covers the full range of the sporting continuum, with a lifetime of participating in grass roots football and road-running at school, college and club level. He understands the rewards (and frustrations) of the sporting volunteer from being the secretary of a local football club.
Rob Borthwick at Sport England
Having graduated from Durham University, Rob Borthwick worked in the local authority sector, before moving to Sport England in January 1995 where he had a number of senior roles in both the Major Projects Team and the Lottery Unit.
These roles required detailed analysis and understanding of capital projects plus the sports development outputs that they could bring, as well as project and staff management.
Move to UK Athletics
His breadth of knowledge and experience was recognised by UK Athletics in 2000, and he moved to work for the governing body as a Special Projects Manager. In seven years at UKA he worked on a diverse range of projects.
He led the NGB input into the development of the two London High Performance Athletics Centres (HiPACs) – at Lee Valley and Brunel - from site searches, through design and construction to successful openings. Both HiPACs were at the forefront of the Team GB's preparation for London 2012.
Rob devised The Community Athletics Refurbishment Programme - a £5m Lottery investment that resulted in a total of £12m being spent at 87 tracks across England.
After being heavily involved in the governance and structural reforms in athletics that led to a Government investment of £41m into the sport, he worked on his final major project for UKA: the creation of The Power of 10, an online targets and ranking system for athletics in the UK.
Rob Borthwick at pointfourone
Rob's projects as a sports consultant have included being Bid Manager of the successful London bids for the 2017 IAAF and IPC World Athletics Championships, and for the Cardiff 2016 IAAF World Half Marathon Championships.
He then went on to be Head of Planning for the London 2017 IAAF and IPC World Athletics Championships, where he developed the staging plans and the project plan from concepts to delivery.
He has provided sports development planning in India, Zambia and Brazil, as well as being the sports facility consultant to a new University Campus development in the Gulf.