pointfourone sports consultancy
pointfourone is a sports consultancy that was founded in 2007. It offers a range of services directly related to the knowledge and expertise of its consultants: David Moorcroft and Rob Borthwick. Between them, they have more than 50 years experience working in sport.
What our sports consultants work on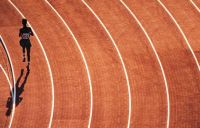 On your own? Our sports consultancy will help you choose the right track.
pointfourone's sport consultancy client list includes companies and organisations from the commercial, educational, public and not-for-profit sectors on projects that include:
Sports event bids and planning
Commercial / sponsorship strategies
Facility development planning & feasibility studies
Strategic and business planning
Organisational / governance modernisation
Sports development planning
Funding applications and supporting documentation
Leadership development workshops & presentations
They can also call upon associates from a wider range of technical disciplines to supplement their team, utilizing specialist skills such as sports architecture, project procurement, branding and marketing. They offer the reassurance of substantial Professional Indemnity cover.
How our sports consultancy works
pointfourone will work carefully with its clients before embarking on sport consulting projects to ensure the objectives and outputs are unambiguous and agreed.
The emphasis is on building up a rapport and establishing trust between both parties through clear, jargon-free communication. Contact us for more details.
They offer 'added value' from their experience, contacts and knowledge of the industry, not a rehash of work that could be done in-house, so that maximum value is returned to the client.